As a spoiler to keep this short
Operating System: Windows 10 Pro 64-bit (10.0, Build 17763)
Processor: Intel(R) Core(TM) i5-8600K CPU @ 3.60GHz (6 CPUs), ~3.6GHz
The OnBoard is the Intel(R) UHD Graphics 630
Memory: 16384MB RAM
DirectX Version: DirectX 12
Card name: NVIDIA GeForce GTX 1060 6GB
Main Monitor: 2590G4@1920 x 1080 (32 bit) (144Hz)
Secondary Monitor: MD 20165@1920 x 1080 (32 bit) (60Hz)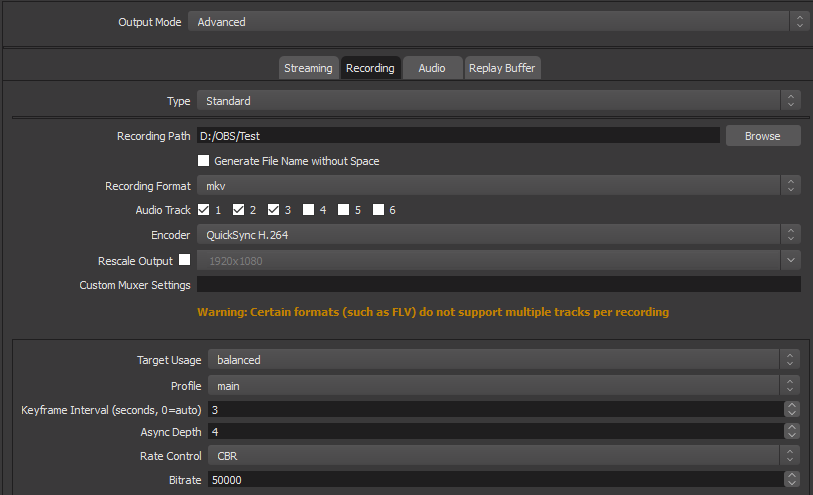 There is not really much of an log but I will still add one
Hey all,
so I reinstalled my Windows 10 and set everything up the way I would like it.
While setting up OBS (more for recording purposes than streaming) I ran into an issue that many people seem to have had in the past.

While googling for a solution I found that many people had the issue in different situations.
By trying out all of these and playing around with the settings I noticed that recording with QuickSync can work
IF
you record while your main monitor is connected to your iGPU. Now from the specs at the top you can tell that I wont connect my 144Hz monitor to my iGPU and constanly swapping games or applications from my second monitor to my main monitor is not a solution for me either. Connecting another HDMI to my main monitor did not fix this either, since then I would have to select the "third" monitor as my main monitor which would just be the HDMI output from my iGPU.
I don't want to make this too long so to get to the point:
Is there anyone that might has a workaround for this issue? Or is this a bug that is known and might get fixed soon?
Thanks for taking your time reading I hope to solve this issue once and for all