Hello everyone. I am pleased to announce BraneBot to the OBS community. First off; BraneBot is 100% cloud based. It runs on Amazon Web Services. Currently it is 100% free during open beta (started 2 weeks ago). What our goal was, was to make something that will replace every single bot out there in one place. We have been in development for over a year.
Signup is super easy just go to
http://www.branebot.com a
nd select Sign Up Now button. It will Authorize with Twitch and then you are taken to your console page. We have many OBS integrations via CLR.
​
Here is a list of our features as of 0.7.1.3:
​
(Bold are released) (Italics are coming very soon)
Custom Currency - Make your own currency.
Custom Giveaway
On Screen Text - Get files via dropbox
Viewer Editing
Custom CLR Alerts
Games (currently Roulette) Soon CLR games like Trivia
Chat Alerts - Don't like CLR? Then you can have the alerts go to chat
100% Free PayPal Donations - Paypal still takes their cut of course.
Chat Spam Filter - Block links and spam with timeouts
CLR Soundboard - Coming soon have 9 triggerable alerts via you, chat command, donation or all.
Auctions Have a high priced item? Put it up for auction to the highest bidder with channel currency.
Mod Mode - Your moderators can edit commands, quotes and run giveaways for you in a secure area on the personal viewer page.
Prestige - Don't have a sub button? This system allows you to offer all the benefits of subscription (without emotes of course).
Polling -Live CLR polls on screen. Viewers can vote via chat or PVP
Personal Viewer Pages - This page (see below) is offered to every one of your viewers. They get real time data, statistics, command and quote list plus the ability to enter giveaways.
Custom Commands - commands you can set via timing of your choice.
Timed Commands - Set any command you made to fire off at intervals of your choice
Quote System - Fun system to add quotes to a searchable database
Custom Bot Name - Make an account on twitch then authorize it with BraneBot

On Screen Events - Customized sliding bars that will show your recent events and animate on and off the screen
API coming soon to allow for custom on screen notifications.
Many more features coming soon (see our documentation for current list)
Console Page: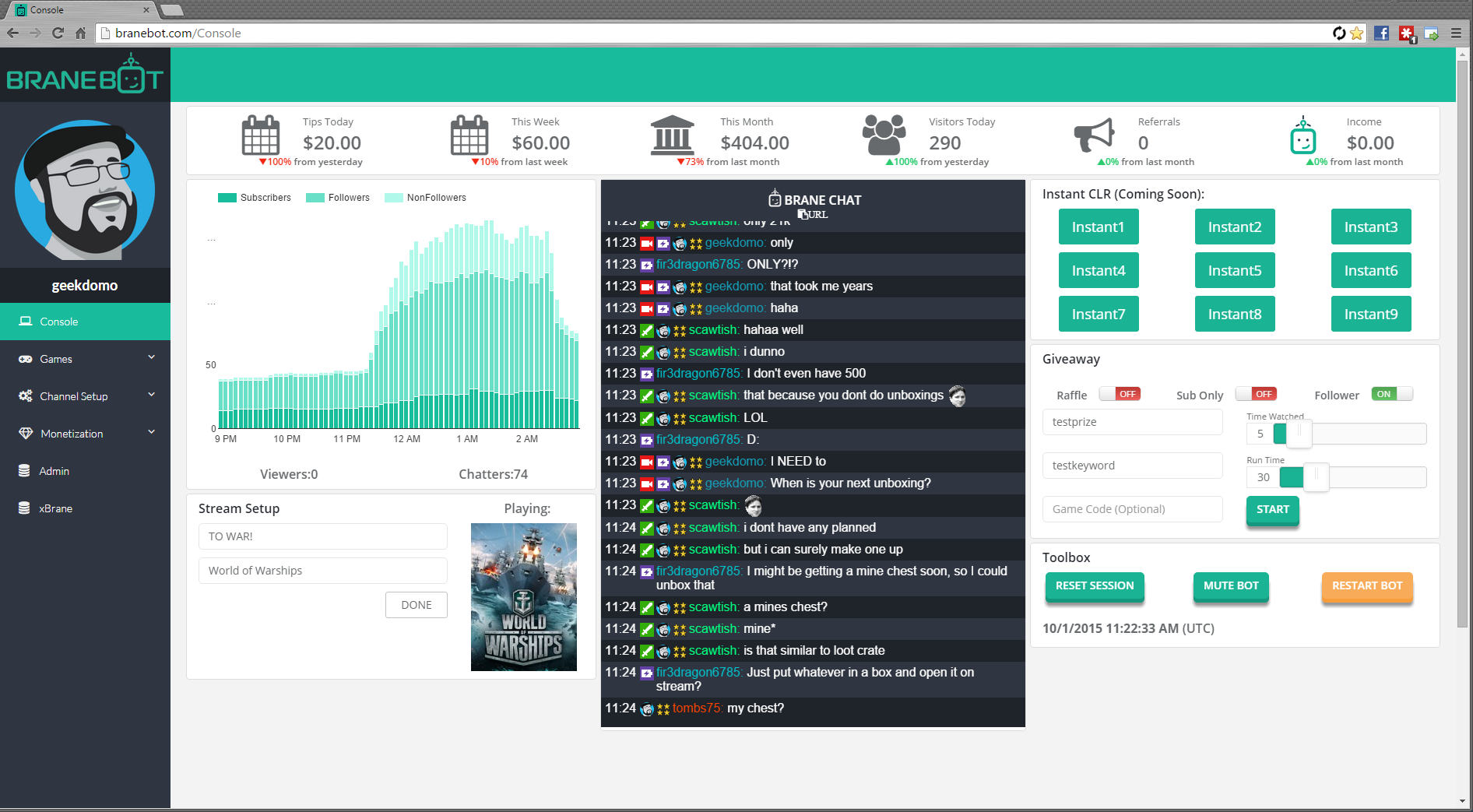 Personal Viewer Page: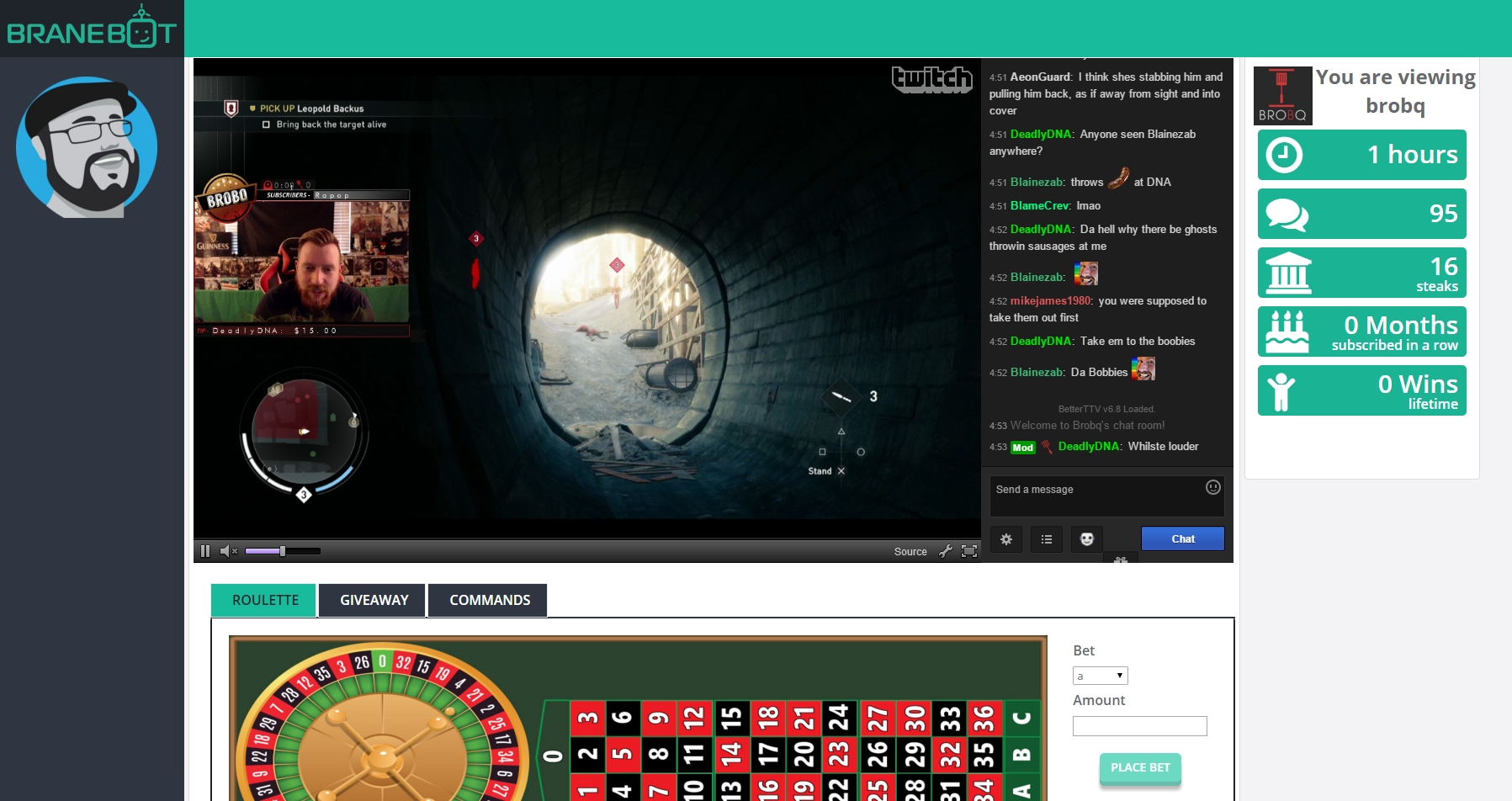 CLR Setup: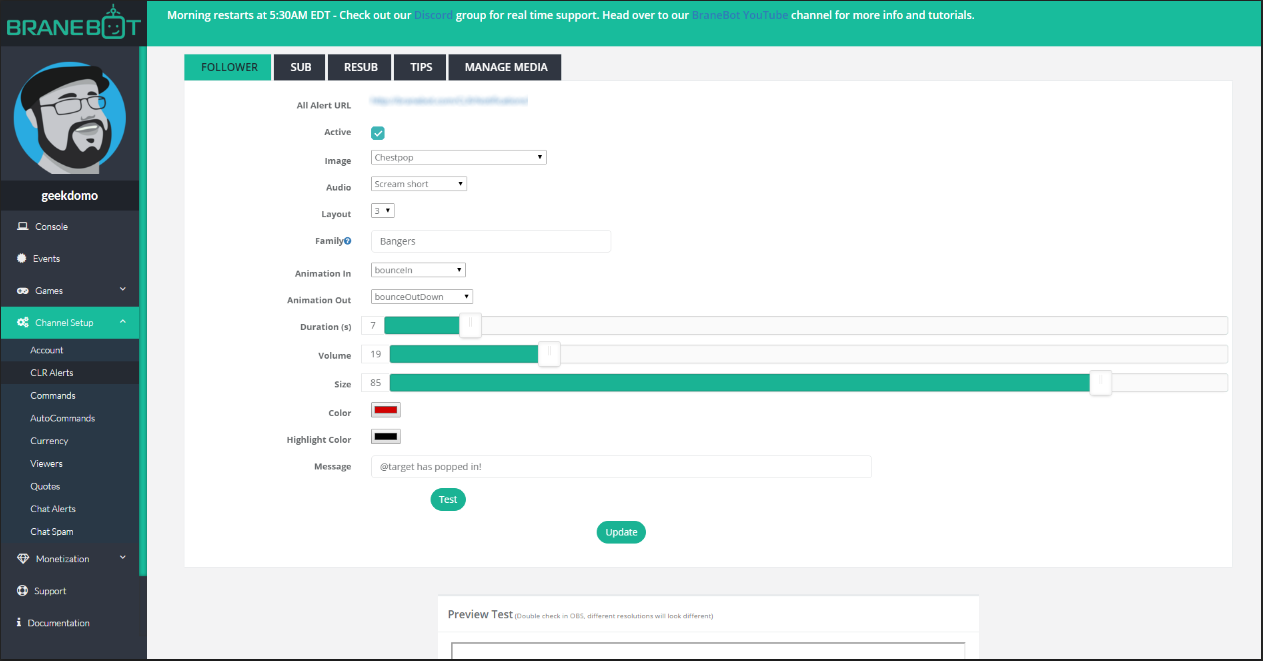 We have a VERY active Discord community. Please join us there for discussion and support. :
https://discord.gg/0TIL3CGvO4ZMp0V3